How do I show CCLI License Details online?
We are required to show CCLI and song credit. Refer to CopyRight FAQ relating to this.
When adding a song to a presentation, make sure you scroll down in the middle, dark section (where the lyrics are arranged), to select what details are shown online and in-house.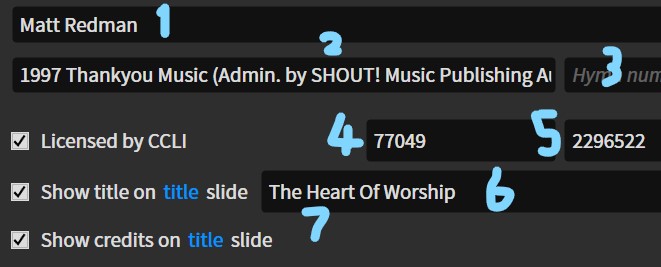 Specific Detail options and fields
Important
1. Song Author(s) - Auto filled

2. Copyright owned or controlled by- Auto filled

3. Hymn Number - NOT USED by Freeway

4. Licensed by CCLI tick-box and number field
The Checkbox should always be ticked!
The License number is unfortunately NOT auto filled, so please insert "

77049

" here.
(you can remember it as 7 times 7 = 49, therefore 77049)

5. CCLI Song number - do not change- Auto filled
Recommended Settings

You can click on the blue words to change options.
6. Show Title
Option should be ticked
on First Lyric Screen

7.Show Cedits
Must be ticked
Once agaon, on First Lyric Screen
This will display as per below on a green screen (note that white text at top is hard to see, as expected).
The green will become transparent.