Are OneDrive files in the cloud or on my computer?
OneDrive folders and files are always in the cloud, but that can also reside and syncronise with your computer.
Choose if you want individual files or folders to reside on your computer.
Once you have added shared folder to your OneDrive, the folder and file structure will always appear on your computer, however the file or folder size may be large and you may not wish to continually chew up space on your hard drive.
Conversely, if you were away from internat access, e.g.. on a plane (as if), then you might want a copy to be always residing on your computer.
In this latter case, and changes to files would be syncronised once you are reconnected.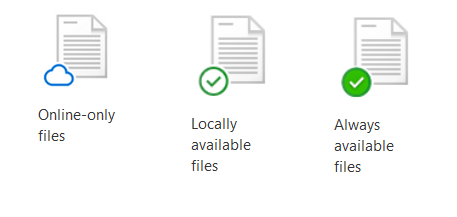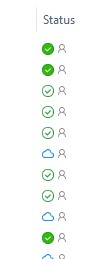 You can view the status of your OneDrive folders or files by looking at the "Status" column in the details view of windows explorer.
You can right-mouse click on a folder or file and change that status.

- "
View Online
" opens up a browser to view this folder online.
'- "Always keep on this device" - downloads the folder or file to your computer, if the content is not already there.
- "Free up Space" removes the content of that folder or file from your computer
The folder and File structure and names always stays on your computer and in the cloud, unless you amend or delete something.