How do I assemble the folding scaffold now available at Freeway?
The scaffold, which is currently on permanent loan to Freeway is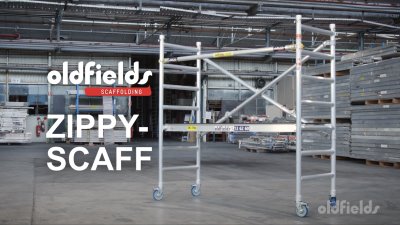 modular,
fits through a doorway,
folds for storage
can take up to 225 Kg working load
has a a variety of heights to which is can be set,
has 2 platforms, including one with a trapdoor for safer access
has safety rails for the top levels
is fully safety compliant with all relevant Australian standards
This 5 minute instructional video shows an overview and assembly of this scaffolding
(or click Click here to view PDF specifications of The Zippy-Scaff™ by Oldfields)
Please ensure you view this 5 minute video before attempting to use the scaffolding!
Brief overview, but please refer to the video, or Oldfields website for furth3r details.
Unfolding the scaffold
Lock stabalising bars
Maximum platform height
without extension is 1.2 metres.
Adding handrail
Lock castors for safety
Extension kit
Add extension sides
Maximum platform height
with extension, is top rung of base unit,
i.e. 1.9 metres.
Add safety rails front and back
Fully extended with outriggers fitted.